BJP raises Vadra land deals issue in Parliament, demands SIT probe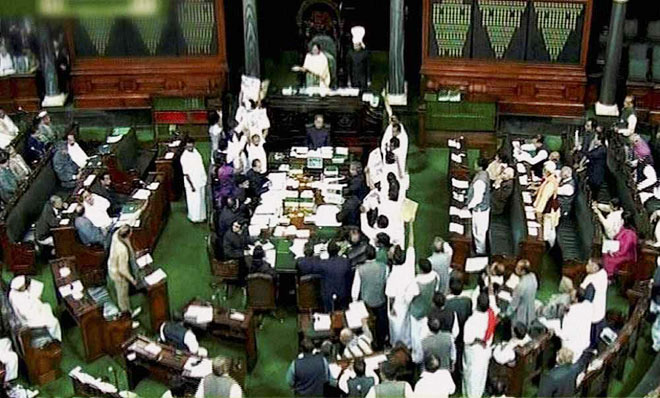 New Delhi: The main opposition Bharatiya Janata Party (BJP) on Tuesday raked up the alleged land scam involving Sonia Gandhi's son-in-law Robert Vadra in both Houses of Parliament, leading to disruptions.
As soon as the Rajya Sabha convened, BJP members raised slogans on the Robart Vadra issue forcing Chairman Hamid Ansari to adjourn the House till 12 noon.
"Every single rule, every single etiquette is being violated… If the honourable members want this to become a federation of anarchists then a different thing. House stands adjourned," an angry Hamid Ansari said.
In the Lok Sabha too, there was chaos over the Robert Vadra issue, Kishtwar violence and Telangana.
"There is one highly connected person in our country who hasn't gone to any business school but made 100s of crores of rupees," BJP's Yashwant Sinha said.
"Not only Haryana but in entire NCR, whereever Congress is in government, Robert Vadra has indulged in land scams," Sinha added, demanding an SIT probe into Vadra's deals.
As soon as Yashwant Sinha made the remarks, Congress MPs got up and started yelling forcing Lok Sabha's adjournment till 12 noon.
Before Parliament convened, BJP's Ravi Shankar Prasad had said, "We will raise issue of Kishtwar in Lok Sabha and in both Houses we will raise Robert Vadra's land deal issue."
Parliament was expected to take up for discussion today two key legislations – the Food Security Bill and the amendment to the Right to Information (RTI) Act – provided there are no disruptions.
Barring a debate in the Rajya Sabha on Kishtwar violence, Parliament faced continued disruptions on Monday on various issues, Telangana, Kishtwar and Robert Vadra land deals.
Top Stories