Jaguar Project 7 Concept Unveiled Officially, debut at Goodwood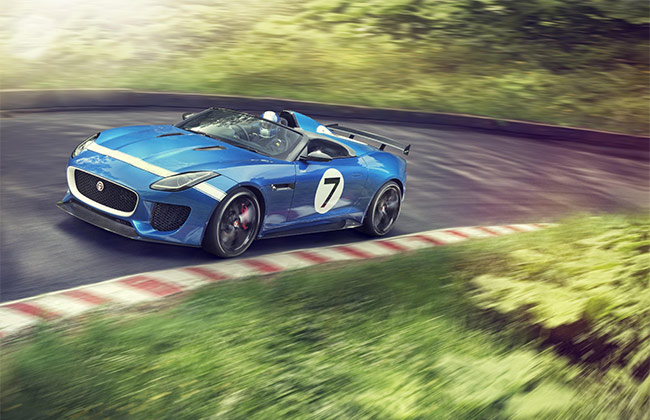 British luxury carmaker Jaguar has now officially unveiled its Project 7 Concept, which is all set to debut at the Goodwood Festival of Speed. Project 7 is based on Jaguar's popular F-Type, and is a two-seater convertible sports car, which has also won the World Car Design of the Year 2013 Award. Jaguar's Project 7 Concept will celebrate Jaguar's 7 victories between 1951 and 1990 at Le Mans.
Commenting on the same, Ian Callum, Director of Design, Jaguar said, "Project 7 is a single-seater sports car based on the F-TYPE, with the kind of racing-inspired form that designers dream about. It has one purpose: to be driven fast and enjoyed. Jaguar sports cars are known for exceptional performance and clean design. Project 7 captures that spirit in its purest form."
Key exterior design changes include a fairing behind the driver's head; bespoke carbon-fibre components – a new front splitter, side skirts and rear diffuser; lowered windshield and restyled front bumper. Project 7's unique interior features a composite single-seat with racing harness, a helmet holder and custom trim. Project 7's name acknowledges Jaguar's winning of Le Mans seven times between 1951-1990 – a record for a British manufacturer – and its blue paintwork is reminiscent of the victorious Jaguar D-types of 1956/1957.
Project 7 is not a static concept, but a fully-functional, high-performance sports car. The F-TYPE's rigid all-aluminium architecture provides the perfect starting point, power coming from Jaguar's 5.0-litre supercharged V8 engine in 550PS/680Nm form – an increase of 55PS and 55Nm over the F-TYPE V8 S.
"The overriding dynamic aim when developing F-TYPE was ensuring connected feel; it's a true, driver-focused sports car; agile, immediate, fast and, of course, fun. Having achieved that for the road, Project 7 has given us a unique opportunity to go that little bit further. It's visceral in every sense – its response, its sound and its sheer performance. I'm very much looking forward to driving it at Goodwood." Mike Cross, Chief Engineer, Vehicle Integrity, Jaguar.
In addition to the increase in power – delivered to the rear wheels through Jaguar's eight-speed Quickshift transmission and electronic active differential – Project 7 also features a free-flow exhaust system with a ceramic finish, 10mm lower ride height and a unique spring/damper tune.
"Jaguar's sporting bloodline and innovative ambition are perfectly embodied by Project 7, both through its sensual design, and its shattering performance. Project 7's Goodwood debut will provide a great stage to showcase the creativity of our design and engineering teams." Adrian Hallmark, Global Brand Director, Jaguar
Top Stories