Lamborghini Gallardo successor Huracan revealed, details inside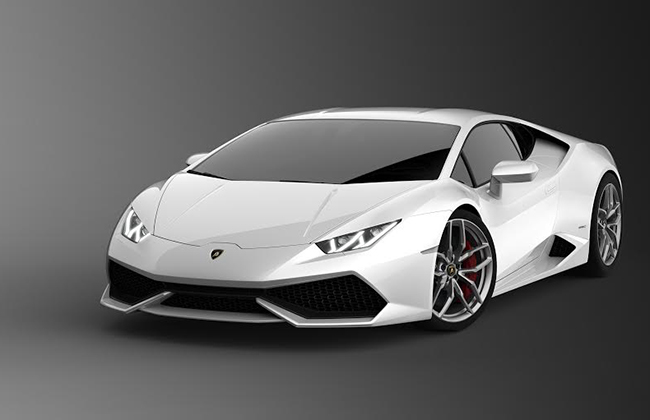 Leaving all the speculations behind, the Italian super sports carmaker Lamborghini has revealed the Huracan LP 610-4, which is the successor to the company's best selling Gallardo. The new model features a pure and unique design, an innovative technology package, outstanding dynamics and excellent quality. It is a perfect blend of absolute performance with easy-to-drive road behaviors and both luxurious and sport-oriented finish
The Lamborghini Huracan will make its world public debut at the 2014 Geneva Motor Show. Before this, the Huracan will be the show-stopper of over 130 private preview events in more than 60 cities globally from January 2014. The company derive the name of its latest beast from the world of bullfighting. The fighting bull Huracan of the Spanish Conte de la Patilla breed was known for his outstanding courage and strong sense of attack.
What impresses the most is its dry weight of just 1,422kg, thanks to the new hybrid chassis which is an integrated structure of carbon and aluminum elements. Under the hood, the Huracan gets the 5.2-litre V10 engine that churns out a massive power output of 610bhp at 8,250rpm and a peak torque of 560Nm at 6,500rpm. In the new ''Iniezione Diretta Stratificata'' (IDS), direct and indirect gasoline injections are smartly combined. This results in more power and torque with lower fuel consumption and emissions compared with the Gallardo V10 engine. The top speed of over 325 km/h and the acceleration from 0 to 100 km/h in 3.2 seconds and to 200 km/h in 9.9 seconds only partially describe the dynamic experience at the wheel of the Huracán. Also thanks to the Stop & Start technology, the combined EU consumption figure has been further reduced to 12.5 liters per 100 km (290 g/km CO2 emissions). The engine complies with EU6 emissions regulation.
The power of the V10 engine is brought to the road via the new 7-speed dual-clutch transmission ''Lamborghini Doppia Frizione'' (LDF) and fully electronically controlled four-wheel drive system. The different driving modes of the Huracán can be selected via a driving dynamics selector switch in the steering wheel — from traction-oriented on the road to extreme performance on the race track, with three setups of the dynamics system: STRADA, SPORT and CORSA.
Not only are the main headlamps of the Huracan equipped with full LED illumination, but all other light functions also feature state-of-the-art LED technology as a standard feature for the first time in the segment. The interior is dominated by an innovative cockpit. A 12.3 inch full-color TFT instrument panel delivers all car information to the driver, from rev counter to navigation maps and infotainment functions, and can be configured by the driver in different setups. Fine Nappa leather and Alcantara distinguish the interior, with several color combinations offered to ensure broad individualization options. The design of dashboard and central tunnel underline a new lightness in the interior. Superb craftsmanship guarantees the highest quality and sense of luxury throughout.
Top Stories