Maoists plant bomb inside dead body of jawan in Jharkhand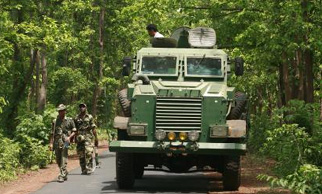 Ranchi: In a shocker, the Maoists planted an explosive device inside the body of a jawan they killed in an encounter in Latehar district of Jharkhand. The disturbing discovery was made when three bodies were brought in for post-mortem at a hospital in Ranchi.
The doctors suspected the presence of a bomb as one of the bodies had stitches and it seemed to be the work of someone who was not a trained doctor. On suspicion, they conducted an X-Ray of the body which showed the presence of a device attached with wires inside the body.
The Bomb Disposal Squad was called in; they have safely removed the device.
"An explosive device was seen planted in one of the bodies. The bomb is a crude device," Jharkhand DGP JS Rath told a news channel.
The device was of 8X10 inch size; further analysis about its nature is being conducted, the DGP added.
As per reports, the bomb was stitched inside the body in a manner that it could have exploded on exertion of minimal pressure.
The CRPF's 134 and 112 battalions and Jharkhand Jaguar personnel were engaged in the anti-Naxal operations when the encounter took place near Katila locality of Amuatikar village of Latehar district.
The toll in the deadly attack has climbed to 13.
Four bodies of jawans had gone missing from the scene of the encounter and were recovered 24 hours later. The body in which the explosive was found was one among them.
The bomb inside the body points to the change in the tactics by the ultras. They now want to spread terror even among the doctors treating the jawans.
Top Stories