Sensex rises 148 points; M&M leads gain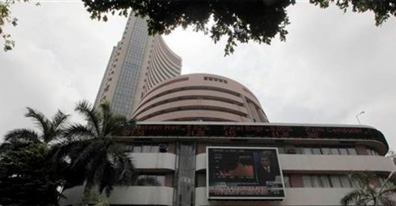 Mumbai: The BSE benchmark Sensex Monday rose 148 points on buying by funds mainly in auto, capital goods, teck and consumer durables stocks even as the RBI kept interest rates unchanged.
The Sensex gained by 147.94 points, or 0.77 percent, to 19,325.87. The index had gained 351 points in the previous session.
Similarly, the Nationa Stock Exchange index Nifty rose by 41.65 points, or 0.72 percent, to 5,850.05 led by auto stocks.
Brokers said an early monsoon raised hopes of better agri output and generate buying power in rural areas.
They said the market also bolstered on speculation the RBI will resume lowering borrowing costs after holding interest rates today.
Automakers led the gains. Tractor maker Mahindra and Mahindra surged 4.43 percent to Rs 989.40 after agreeing to buy stake in Spanish auto major CIE Automotive.
"The street was upbeat on the stock (M&M) after its auto component business made a deal with Spanish auto major CIE. The company is in the process of merging its component businesses into one entity," said Nagji K Rita, Chairman & MD, Inventure Growth & Securities.
In 30-BSE index components, 23 stocks gained led by Reliance Industries, Infosys, Bajaj Auto, Bharti Airtel, BHEL, Hero MotoCorp, Maruti Suzuki and Larsen and Toubro.
The Auto sector index gained the most by 1.90 percent to 10,901.11 followed by capital goods index by 1.15 percent to 9,422.81. Teck index rose by 1.09 percent to 3,583.31 and consumer durable index by 1.02 percent to 6,659.68.
Barring metal, all the sectoral indices closed with gains up to 1.90 percent.
Top Stories